Kristopher's Korner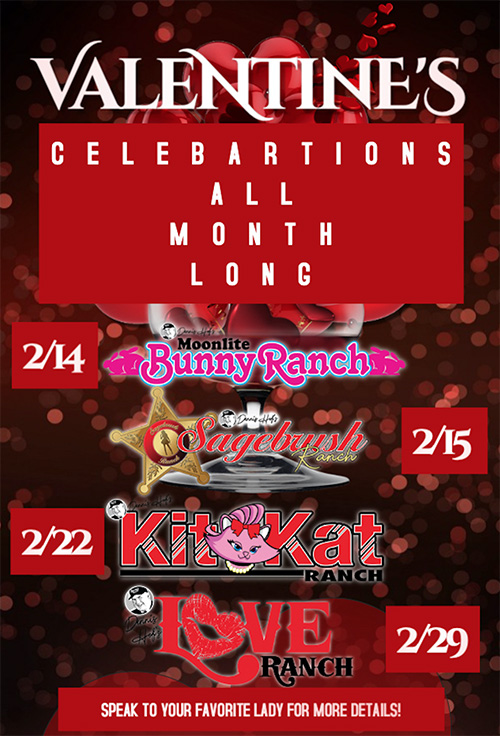 Love is in the air!!
No plans for Valentines Day or the month of February?
You are GUARANTEED to have some fun at one of our fabulous ranches!
BunnyRanch kicks off the party on 2/14/2020
The next day head over to Sagebrush and meet a sexy starlet or two on 2/15/20!
In the middle of the month cupid is still flying around and is heading to Kit Kat on 2/22/2020
Lastly the lovefest continues at the LoveRanch at the end of the month on 2/29/20
Follow the Rainbow to our St Patrick's Brothel Crawl!
You are invited to our St Patty's/Customer Appreciation
No need to find the pot of gold at the end of the rainbow......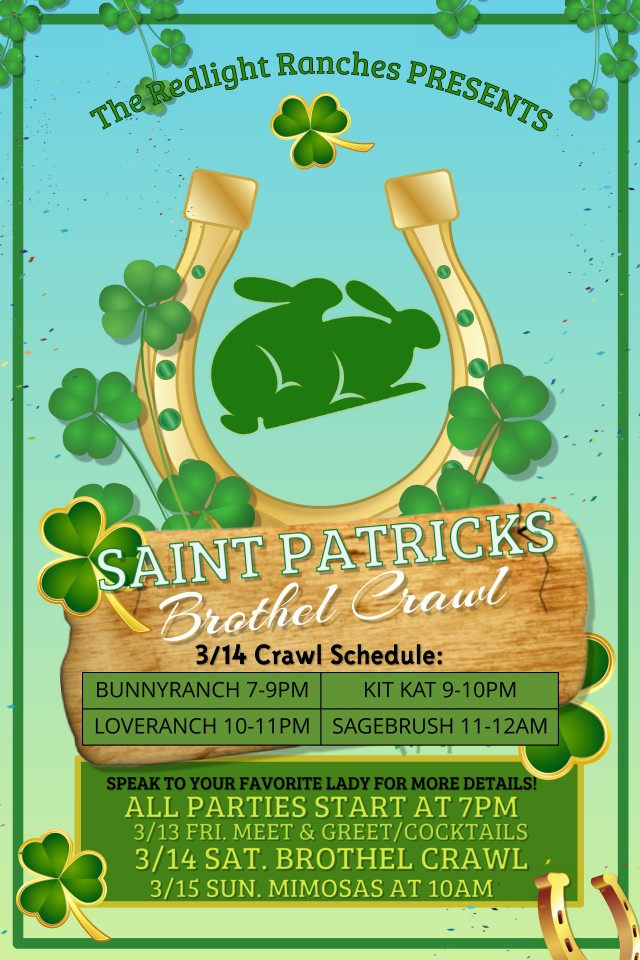 EVERYONE GETS LUCKY!!!
JOIN US MARCH 13-15 ​
3/13 7PM, OUR MEET AND GREET AT ALL THE RANCHES TAKES PLACE. MEET YOUR FAVORITE BUNNY,KITTY,LOVER, AND STARLET OR MAKE A NEW FRIEND!
3/14 7PM, THE BROTHEL CRAWL BEGINS! SLIDE ON DOWN THE RAINBOW AS WE TRAVEL FROM HOUSE TO HOUSE FOR DRINKS, FUN, AND PARTY GAMES!!
3/15 10AM, YOU MIGHT NEED A LITTLE RECOVERY COCKTAIL FROM ALL THE ADVENTURES THAT TOOK PLACE THE NIGHT BEFORE. HEAD ON OVER TO YOUR HOUSE OF CHOICE, AS WE SERVE COMPLEMENTARY SUNDAY MIMOAS STARTING AT 10AM!
WE CAN'T WAIT TO SEE EVERYONE!!!
- Prince Kristopher